Stockton Homes for Sale with Acreage
Looking for a home for sale in the Stockton area that has some acreage?  Is a "little bit of land" your dream?  Don't want neighbors all around you?  Need some space?  We've gathered all the homes for sale in Stockton, Linden, Lockeford, and Thornton that have at least a one acre lot and have put them on one MLS home search page.  Only those homes that are NOT Sale Pending will show on the MLS home search.  As of February 20, 2020, there are 32 homes for sale in the Stockton, Linden, Lockeford, Thornton area that are one at least one acre.  Click below, then check back often, as these listings are updated daily.
Below are just some of the pictures from the Stockton Homes with Acreage.
We just sold a home in Stockton that was on 4.91 acres.  If you are thinking of selling your home, we can help you with that.  Here's a video we did for that property.
Check out the video for this Stockton Home with Acreage
To get to know us, visit our "About Us" page at: property-negotiator.com/bob-peralta/  Being in the real estate business for over 30 years, Bob Peralta is dedicated to making the complicated process of selling or buying real estate as easy and stress free as possible. While there, check out our A+ Better Business Bureau rating, our Zillow 5-Star Premier Agent rating and reviews, and 5-Star Yelp rating.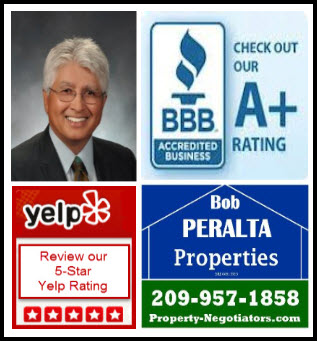 After you have looked at all the Stockton Homes for Sale with Acreage, if you see something you like, just give us a call and we can arrange a showing for you.
Bob Peralta – Broker/Realtor
Bob Peralta Properties
Office: (209) 957-1858
Cell/Text:  (209) 401-3572
BRE 00913523