Welcome to Lincoln Village West Homes for Sale Stockton
Are you looking for Lincoln Village West Homes for Sale Stockton? Buying a home in Lincoln Village West brings many advantages that other neighborhoods may not offer.  Lincoln Village West is a subdivision located in North Stockton just west of Interstate 5 off of Benjamin Holt Dr.  This area is filled with a combination of single family homes, condominiums, duplexes, and apartment units.  The area is one of Stockton's most prestigious areas and has some beautiful homes.  Many of the Lincoln Village homeowners enjoy resort-style facilities, neighborhood pools and parks.  Shopping is convenient at the Marina Shopping Center.
Video of the Sites of Lincoln Village West 
Amenities of Lincoln Village West
Living in Lincoln Village West comes with many great perks: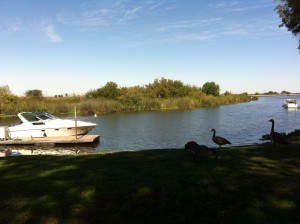 Easy freeway access to and from I-5; a convenient shopping center, Marina Market;  a boat harbor – Village West Marina; and InShape Tennis Club – with tennis courts, workout facilities and a pool. There are many restaurants in the area such as Bobs at the Marina, Garlic Brothers, Casa Flores, Le Bistro, Fon Wongs Deli etc.
The Lincoln Village West neighborhood provides a great place to walk, run and ride bikes.  Plus it offers miles and miles of waterways  on the Delta for boating, skiing, fishing,  and sailing.  There is also the Fritz Grupe Park with facilities for softball, tennis, basketball and a children's park which is very popular in the area.
There are two man-made lakes – Lake Lincoln, the largest man-made lake in Stockton, and Fort Donaldson Lake.  There are also many community pools, two with swim teams for the kids. The children living in the area attend schools in the Lincoln Unified School District. 
Would you like professional assistance in finding and negotiating the right house at the right price? Would you like to know where to go and who to see about getting the best financing rates and terms for your situation? Having someone on your side who understands what you want, when you want it, why you want it, and someone who puts your best interests as their number one priority are key ingredients in buying real estate. Licensed over 30 years as a California real estate broker along with an A+ reliability rating with the Better Business Bureau are credentials that are indicative of the honesty, trust, and integrity in which Bob Peralta conducts his business.
Please call Bob Peralta, Bob Peralta Properties, at (209) 957-1858 for a confidential interview to see if he can help you find Lincoln Village West Homes for Sale Stockton 
Bob Peralta, Broker/Realtor
Bob Peralta Properties
BRE 00913523