Welcome to Brookside Estates Homes for sale.   The Brookside neighborhood, also known as Brookside Estates is located just west of Interstate 5 in Stockton, California.   The main road servicing this area is March Lane.  The 450 acre master planned community is bordered by the Smith's levee to the west; the Calaveras River to the south; San Joaquin River to the east, and Fourteen Mile Slough to the north.  Developed by the Grupe Company, Brookside Estates includes a combination of custom homes, single family homes, condominiums and commercial properties.
Similar to other master planned communities, the homes that are for sale in Brookside Estates are governed by the Brookside Master Homeowners Association with five different sub-associations which are the Brookside Classics Owners Association, Brookside Golf Community, Brookside Golf Villas Association, Brookside Lake Community Association, and Brookside Pointe Community Association.

  Call us at     209-957-1858
One of the main attractions to the area is the Grupe built man made lakes as shown above and the attractive homes that line these lakes such as the Brookside Estates Homes for sale on Heron Lakes.
The other attraction that Brookside Estates is known for is Brookside Golf and Country Club.    Below is a view of the front entrance to this Stockton, California landmark.
Some of the Brookside Estates Homes for sale are along one of Stockton's deep water channels that lead to the Pacific Ocean. Below is an example of a Brookside Estate home that shows a freighter on its way back out to the Pacific Ocean.
Need help in buying one of the Brookside Estates Homes for sale?  We are skilled professional that advise and negotiate for buyers in the purchase of property anywhere in San Joaquin County including in the Brookside community of Stockton.
A licensed real estate broker for over 25 years, Bob previous experience as a commercial and residential broker has been an instrumental factor in successfully negotiating regular home sales and short sales, while also acting as a buyer's agent for clients wishing to purchase a home. The successful outcome of these negotiations can be attributed to his broad spectrum of knowledge and business background experience in the automobile, insurance and real estate industry developed over the last 25 years.  Let us help you find your next Brookside Estates Home in Stockton.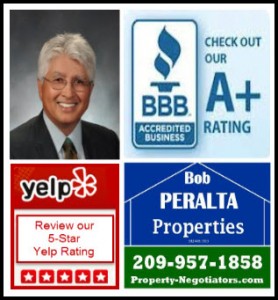 www.property-negotiators.com
Bob Peralta
(209) 957 – 1858
BRE 00913523